For this week's 5 for Friday, I had to really think about what to feature. I was trying to think of something unique, but nothing was coming to mind. Then, as I was staring at my computer, my husband chimed in with a recipe idea for blackberries. He really likes blackberries and you'll probably see his idea pop up on the site in the near future. But he also solved a problem for me…my next Friday feature.
This was a tough one as I scrolled through tons of delicious looking blackberry recipes. I had no idea there were so many out there! I tried to make unique picks beyond the usual blackberry cobbler (which is phenomenal of course) that I think will widen our horizons on what to do with the tart and sweet berry that's ubiquitous with Summer.
First, on today's list is an appetizer combining goat cheese (love) and blackberries. It never occurred to me to pair the two, but I could totally see how these two would work really well together. Check out the Crisps with Goat Cheese, Blackberries and Honey from Foodie with Family.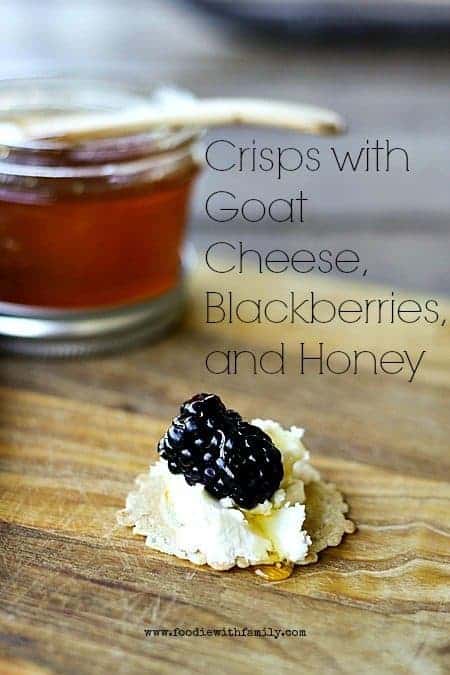 There's a debate that rages on in my house over BBQ sauce. My husband is a die hard Johnny Harris fan, which is a vinegar based sauce. So much so, there are literally bottles of the stuff stockpiled in our pantry for fear that we might run out. I, on the other hand, prefer a sweeter/smokier BBQ sauce. Who's got it right when it comes to BBQ sauce? Depends on what state you ask. But in my opinion, this Blackberry BBQ Sauce could bridge the divide from Macheesmo.
There's something just magical about macarons and adding chocolate to anything makes it a winner to me! But adding a decadent blackberry filling between those chocolaty cookies? Heaven. Chocolate Macarons with Blackberry Filling from Bakers Royale.
My husband loves Asian food. I'm not exaggerating. He loves it so much that we used to have Asian Sunday and I would cook at least one Asian inspired meal that day. We haven't had it in awhile, and he's let me know how unhappy that makes him. But this dish may just revivie the tradition. Asian Meatballs with Hoisin-Blackberry Glaze from Just A Taste.
I've seen lots of flavor combinations for blackberries, but one of the most unique to me? Blackberries and limes. There's something so very interesting about that combination and I love how these little cookies have a whole blackberry in each thumbprint. Blackberry Lime Thumbprint Cookies by Tutti Dolci.